The Clinical Moment: All things mRNA Covid-19 Vaccines...
Based on the CDC's guidance, those at highest risk for severe illness or death due to Covid-19 include:
Front-line workers
Older adults
Those with coexisting conditions such as down syndrome, cancer, chronic kidney disease, COPD, obesity (BMI greater than 30 kg/m²), heart failure, CAD, cardiomyopathies, immunocompromised from solid organ transplant, pregnancy, smoking, sickle cell disease, type 2 diabetes
People may be at an increased risk if they are overweight (MBI between 25-30 kg/m²), have type 1 diabetes, thalassemia, pulmonary fibrosis, liver disease, neurologic conditions, immunocompromised state, hypertension, CF, asthma, cerebrovascular disease
Children are at an increased risk if they have obesity, sickle cell disease, severe genetic disorders, severe neurologic disorders, inherited metabolic disorders, congenital heart disease, diabetes, chronic kidney disease, asthma /chronic lung disease, heart disease
mRNA COVID VACCINES:
The two currently available messenger RNA (mRNA) vaccines have mRNA wrapped in a lipid nanoparticle, which gets incorporated into human cells. This mRNA encodes for the spike protein, instructing the host cell to produce the spike protein, which stimulates an immune response that will provide protection against COVID19.
Pfizer's BNT162b2 is a messenger RNA COVID19 vaccine. In the study: Safety & Efficacy of the BNT162b2 mRNA Covid-19 Vaccine, two doses of 30 μg were administered IM, 21 days apart, in patients 16 years of age and older. All patients were healthy or had stable chronic medical conditions & no immunocompromised patients were included. Results showed high SARS-CoV-2 neutralizing antibody titers and robust antigen-specific CD8+ and Th1-teyp CD4+ T-cell responses. Side effects were mild in nature and comparable to other vaccines widely used, including mild-to-moderate pain at the injection site, fatigue and headache. The study is ongoing, as they determine the longevity of the immune response (currently we know immunity persists for months), and to determine if the vaccine will protect against onward transmission. The vaccine is 95% effective in preventing COVID 19, with similar efficacy across age, sex, race, ethnicity, BMI and the presence of coexisting conditions. Looking at the cumulative incidence of Covid-19 after the first dose, cases diverge after about day 12 post the 1st dose. (See graph below)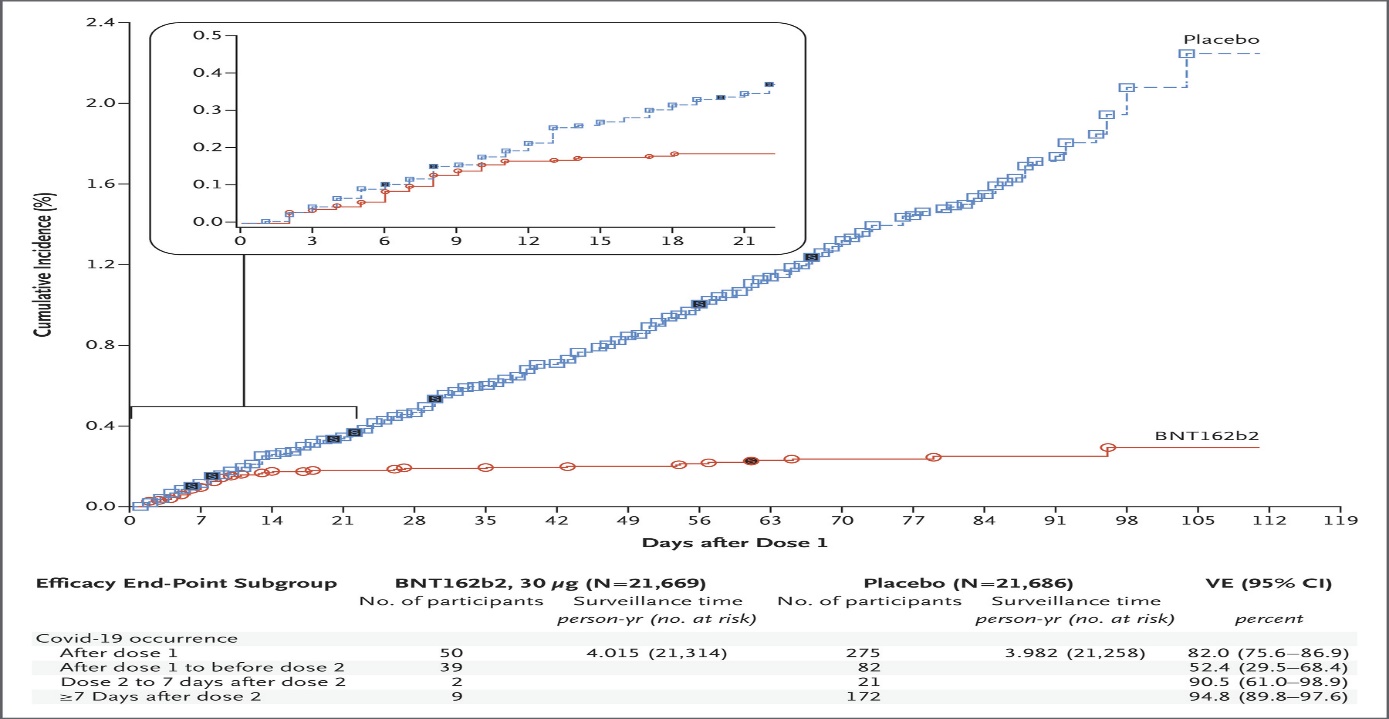 Moderna's mRNA Covid 19 vaccine has a similar mechanism to Pfizer's vaccine. In the study, Efficacy and Safety of the mRNA-1273 SARS-CoV-2 Vaccine | NEJM, two doses of 100 µg were administered IM, 28 days apart in patients 18 years of age and older. Side effects were comparable to other commonly used vaccines, with most being mild-to-moderate in nature and resolving over 1-3 days. The incidence of COVID-19 diverged from the placebo group from day 14, persisting for the two months of the study period (see graph below). As with the Pfizer vaccine, the study is ongoing to determine longevity of protection, to see if the vaccine will protect against asymptomatic infection & transmission to others, and to ascertain long-term safety.
Pharmacist Considerations for our Patients:
Who should NOT get the vaccine?
Anyone with a history of anaphylaxis or non-severe immediate allergic reaction to any component of the mRNA covid vaccines (or after the 1st dose – should not get the second dose).
Anyone with an allergy to polyethylene glycol (PEG) as it is a component in the mRNA Covid vaccines. Same for those with allergies to polysorbate, which is not in the vaccines, but is related to PEG.
Extreme caution should be exercised in the very frail elderly folk with a life expectancy of less than 3 months and risk-benefit should be assessed in such patients.
Moderna's vaccine should only be given to those 18 years of age or older and Pfizer's to those 16 years of age or order, pending the results of additional ongoing studies in the younger population.
Special Considerations
Allergies: Exercise extreme caution in patients with a history of anaphylaxis or non-severe immediate allergic reactions to other non-mRNA vaccines and observe closely for 30 minutes if given in such cases. The mRNA vaccines can be given with caution (observe for 15 minutes after) in patients with food allergies, allergies to incent venom, medications, latex or environmental allergies. For further reading: ACAAI Provides Further Guidance on Risk of Allergic Reactions to mRNA COVID-19 Vaccines | Important to provide information about previous allergic reactions to vaccines | ACAAI Public Website.
Pregnancy & Lactation: The World Health Organization recently issued a statement that "Pregnant women at high risk of exposure to SARS-CoV-2 (e.g. health workers) or who have comorbidities which add to their risk of severe disease, may be vaccinated in consultation with their healthcare provider", as there is no reason to believe that risks outweigh benefits of vaccination in pregnancy.
The American College of Obstetricians & Gynecologists has issued a Statement on Vaccinating Pregnant and Lactating Patients Against COVID-19 | ACOG along with the CDC's Statement Vaccination Considerations for People who are Pregnant or Breastfeeding.
Cancer Patients & those on Chemotherapy: The American Society of Clinical Oncology has issued a Statement on the use of COVID-19 Vaccine & Patients with Cancer | ASCO.
Immunocompromised Patients: The mRNA COVID-19 vaccines are not live vaccines and can be given to immunocompromised patients; however, such patients may have a diminished immune response to the vaccine and should be aware of this.
Autoimmune Diseases & Immunosuppressants: The American College of Rheumatology has issued a statement regarding Vaccination Against SARS-CoV-2 for Autoimmune Diseases & Patients on Immunosuppressive Therapy. Note that for patients on Rituximab, special considerations may be needed that do not apply to other kinds of biologics, as rituximab depletes B cells. As such, timing the vaccine to when the B cell level is the highest (at the dosing nadir, just before the next dose is due) may allow for a better immune response. (Should You Get the COVID-19 Vaccine If You Take Rituximab?)